Overview page
Each user can now customize which cards appear on the overview page to better fit the needs of their personal workflow and tasks!
Card options will depend on each user's role and permissions as well as your price plan
If your permissions only allow for one card, you will not see the customize link
Card sizes will adjust to fit the real estate on the overview screen appropriately
At least one card has to be selected at all times
Adding a bank on the mobile app
We have reformatted the add a bank page to make it much more user-friendly when accessing from the mobile app
Document undocking
When viewing, editing, or creating a new bill with an attachment, clicking the new undock icon will open the attachment in a new browser window, allowing you to easily click or use keyboard shortcuts to switch back and forth between the document and the bill itself, for easy coding!
Click and Capture will still work on undocked document window
Vendor details - bills
A new approval status column has been added to the bills tab on the vendor details page. Hovering over the status in this column will bring up a window showing the assigned approver and the number of days it has been waiting for approval
Bill details paginated
The bill details page will now be paginated, broken down into individual pages, which will have up to 20 line items listed per page
Reporting
Export functionality has been added to the following pages, in addition to others added in the past releases:
Vendor Details page
Bills tab
Payments tab
Customer Details page
Invoices tab
Payments tab
Headers and sorting
Frozen Headers
The following pages will now have headers that will stay visible at the top of your page, even if you select several items and scroll down the list
Invoices list
Bills list
Approvals page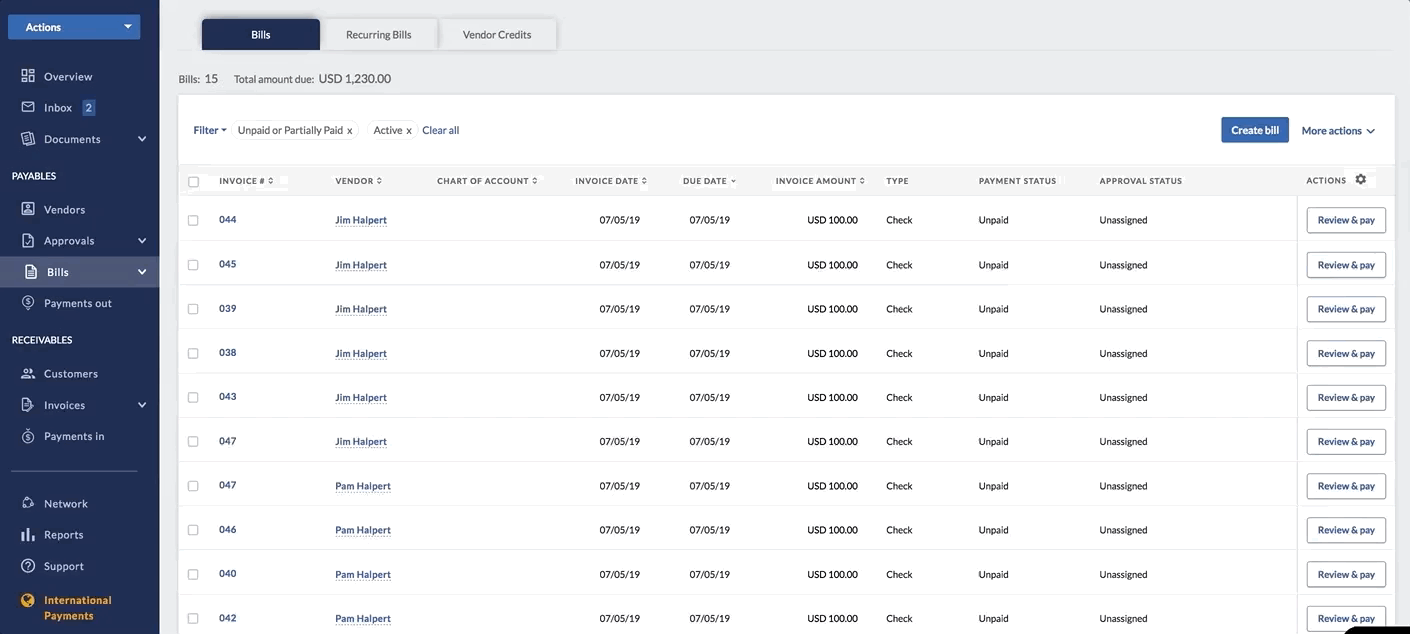 Sticky Sort
Sticky sort has been to the following pages, to allow you to set your own sort preferences:
Payments tab on the vendor details page
Bills tab on the vendor details page
Payments tab on the customer details page
Invoices tab on the customer details page
Sticky sort means the system will remember the sort set by the user on each page until the user manually sorts differently, and will be a user-level preference/setting.
The sort applied to the bills/payments/invoices tab of an individual customer/vendor will then apply to all customers/vendors until manually changed.
Billing
We have fixed an error in our monthly statement billing process; we will now bill for:
The number of billable users active on the bill date (no change)
Any users that were deactivated in the billing cycle, and were active for more than 48hrs (new addition)

During the trial period, however, we encourage you to add/remove users and experiment with roles, so we will not charge for deactivated users in the trial period; we will only charge for users active at the time of the first billing statement
Receivables
You can now see any contacts that are automatically CC'd, as well as add others when bulk emailing invoices
Network
Now, whenever adding or editing a customer or vendor address, we will show autocomplete options to help ensure accurate addresses:
We will show up to 5 auto complete address options, powered by Google®

add/quick add/edit vendor
pay a vendor when address is missing
add/quick add/edit customer
editing a customer address as part of bulk mailing invoices

For now, we will only autocomplete US addresses
If you select an auto complete result, the system will update the following address fields as appropriate: Address line 1, line 2, line 3, line 4, city, state, zip.
If you have manually entered data in the address fields, selecting an auto complete option will overwrite those fields, and clear anything extra
Sync
Foreign currency bills and payments will now sync from Bill.com to QuickBooks Online (QBO), even if multi-currency is not enabled in QBO!
Bills and payments will be reverted to USD in QBO, based on the current exchange rate.
Because the exchange rate could vary between the day the bill syncs and the day the payment is processed if they are not at the same time, a new sync preference/GL account "Exchange rate gain/loss account " will be required to account for the variance.
Terms of Service and consent
The following have been updated with this release: